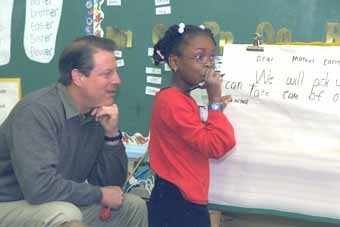 Al Gore believes very deeply that education is heart of the American dream, and the way that we can open new doors of learning and opportunity for all our children.
In many ways, Al Gore was raised on a commitment to education. When his father, Albert Gore Sr,. was just eighteen, he went to work as a teacher in a one-room schoolhouse - and later became Superintendent of Schools for Smith County in Tennessee.
Al Gore's mother, Pauline LaFon Gore, started her education in a one-room schoolhouse -- a lot like the one his father later taught in. She worked her way through college, and took her blind sister Thelma with her -- taking notes and reading lessons for both of them. She later became one of the first women in history to graduate from Vanderbilt Law School. Today, at 87 years old, she still remembers every teacher who had an impact on her.
Al Gore learned the power of education from his parents - and has taken that lesson to his career in public service. He often says that education is the number-one priority for investing in the future.
For the past eight years, he has worked to invest more in our public schools, and also to demand more from them - so that we can get the very best from students, teachers, and schools.
Together with President Clinton, Al Gore has helped to launch a national movement to raise standards and accountability. He has fought for greater public school choice and competition, to apply the pressure that improves all public schools.
And Al Gore has worked to make sure that every child can go to school in a 21st Century classroom, with a well-qualified teacher. He has fought for tax cuts to rebuild and modernize more than 6,000 public schools nationwide. He has fought to hire 100,000 new teachers, to reduce class size in the early grades to a national average of 18. He has taken the lead on the administration's public-private partnership to connect every classroom and library to the Internet. Al Gore is also fighting to help more children succeed by increasing access to early childhood education, and expanding after school and summer school programs.
Finally, Al Gore has worked with President Clinton to open the doors of college to all students -- with more Pell Grants, more student loans, and new HOPE scholarship tax cuts that help families pay for college tuition.
---
President and First Lady | Vice President and Mrs. Gore
Record of Progress | The Briefing Room
Gateway to Government | Contacting the White House
White House for Kids | White House History
White House Tours | Help | Text Only