National Medal Winner - David McCullough
National Millennium Time Capsule
National Medal Winner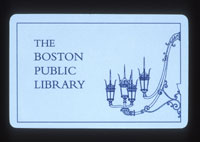 McCullough, David, National Humanities Medal, 1995
A Boston Public Library card, the first public library to allow readers to take books home.

"I recommend that the time capsule include at least one public library card for a child...a Boston Public Library card would be particularly suitable, as the Boston Public Library was the first to allow readers to take books home. Our free public library system is one of the greatest of all American institutions, and reflects perhaps as well as anything could the theme of past and future. Cross the threshold of a public library and you enter a world of pure democracy, the world of books and learning open to all, 'free to the people.' What journeys of mind and spirit are there for the taking with a library card. And only in America does such a system prevail for all the people…there are still more public libraries than McDonalds and library use has never been higher than now at the close of the twentieth century."
---
President and First Lady | Vice President and Mrs. Gore
Record of Progress | The Briefing Room
Gateway to Government | Contacting the White House | White House for Kids
White House History | White House Tours | Help
Privacy Statement