National Medal Winner - Eduardo Guerrero
National Millennium Time Capsule
National Medal Winner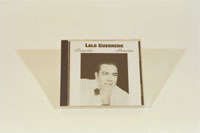 Guerrero, Eduardo, National Medal of Arts, 1996
Lyrics and CD recording of El Chicano
Written by his son, "...He knows it is important the capsule contain something representative of the Mexican-American or Chicano culture. And at the risk of appearing self-serving, my brother Mark and I believe one of our father's compositions says it all when it comes to describing the Chicano experience. Dad wrote EL CHICANO in Spanish in 1977. He has written a loose English-language translation especially for the National Time Capsule...The CD was created for a special event honoring my Dad a few years ago and also contains many of his original recordings and compositions dating back to the late 1940s."
---
President and First Lady | Vice President and Mrs. Gore
Record of Progress | The Briefing Room
Gateway to Government | Contacting the White House | White House for Kids
White House History | White House Tours | Help
Privacy Statement