Because the President must carry out so many important and demanding responsibilities as the leader of our country, he relies on his Chief of Staff to ensure that the White House Office runs effectively and efficiently. The Chief of Staff position was created relatively recently; records show that the first Chief of Staff, Sherman Adams, began his service in 1953, during the Administration of President Dwight D. Eisenhower.

Chief of Staff John Podesta briefs the President
as they walk to the Oval Office.
John Podesta is President Clinton's Chief of Staff. He meets with the President numerous times each day, and his office is located directly down the hall from the Oval Office so that he can be readily available to assist the President at any time. Mr. Podesta's primary responsibility is to organize all of the information that flows to and from the President. He must make sure that important issues are brought to the President's attention promptly and that White House staff members have the time, information, and resources they need to handle their workload. Mr. Podesta oversees the President's schedule, helping to decide whom the President should see or call and with whom he should correspond. Mr. Podesta also briefs the President on policy issues, assists in the process of appointing individuals to government positions, and reviews the President's speeches before they are delivered. He meets regularly with other members of the President's staff, including his schedulers, speechwriters, policy experts, budget team, and national security staff. He also helps the President work with the United States Congress to pass new legislation.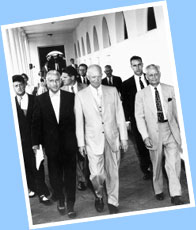 President Eisenhower (center) walks with his Chief of Staff,
Sherman Adams (far right).
Photo courtesy the Dwight D. Eisenhower Library
Mr. Podesta begins his workday at 7:00 a.m., often working late into the evening; however, he always makes time for his family. He also finds his job very rewarding. Mr. Podesta knows that he is helping the President to serve the American people and to create a brighter future for our nation. And, in his travels with the President across America, he has the opportunity to meet many young people. He enjoys answering their questions and hopes that, some day, he may inspire a future Chief of Staff, or maybe even a future President!
---
President and First Lady | Vice President and Mrs. Gore
Record of Progress | The Briefing Room
Gateway to Government | Contacting the White House
White House for Kids | White House History
White House Tours | Help | Text Only