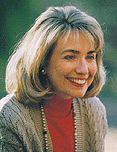 Hillary Rodham Clinton was born in Chicago, Illinois, on October 26, 1947. She has two younger brothers named Hugh and Tony. She and President Clinton have a daughter named Chelsea.
As a young girl, Hillary participated in many activities, including Girl Scouts, swimming, tennis, ballet, softball, skating, and field hockey. She was active in student government and enjoyed taking debate classes where she learned the value of looking at issues from more than one point of view. Hillary considered many careers, including becoming an astronaut. Eventually, she decided to become a lawyer.
An early influence in Hillary's life was the minister of her church. He taught her the importance of being involved in her community. She took his teachings very seriously and began tutoring children and organizing food drives. With her church youth group, she helped raise money to care for less fortunate children.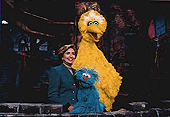 When her husband, Bill Clinton, was elected President of the United States, Hillary was excited about moving to Washington, D.C. However, she also knew that leaving home, friends, and relatives and moving to a new area can be a challenge for any family, especially one with a teenage daughter.
When the Clintons arrived in Washington, D.C., Hillary quickly began her work as First Lady. She also wanted to make the White House a true home for her family. She converted the serving kitchen on the second floor into an informal family kitchen so that they could sit down together for meals just as they had in Arkansas.
As First Lady, Mrs. Clinton travels throughout this country and around the world. She enjoys meeting young people and sharing with them the President's belief that with everyone's help, we can make our country a better place for all Americans.

---
President and First Lady | Vice President and Mrs. Gore
Record of Progress | The Briefing Room
Gateway to Government | Contacting the White House
White House for Kids | White House History
White House Tours | Help | Text Only