Children in the White House


Many Presidents have had children or grandchildren who lived with them or visited often at the White House. Chelsea Victoria, daughter of Bill and Hillary Clinton, enjoys spending time with her father. Chelsea is the first child to live in the White House since Amy Carter. An avid soccer player and ballet enthusiast, Chelsea's favorite subjects in school are math and foreign languages.

---

Amy Carter, President Jimmy Carter's daughter, moved into the White House at the age of nine. She has three older brothers, named Jack, Jeff, and Chip. Amy's mother, Rosalynn, once remarked, "Her brothers are so much older that it is almost as though she has four fathers, and we have had to stand in line to spoil her."

---

President Richard Nixon's children, Tricia and Julie, along with Julie's husband, David Eisenhower, enjoyed family dinners in the White House.

---
Lynda Johnson, President Lyndon B. Johnson's daughter, was married to Charles Robb in 1967 in the East Room of the White House. It was the first wedding to take place in the White House since 1914, when President Woodrow Wilson's daughter, Eleanor, married William Gibbs McAdoo.

---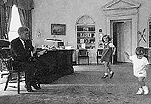 President John F. Kennedy's children, John Jr. and Caroline, would often come to visit their father in the Oval Office. The President enjoyed their company and loved to watch them play. Caroline had a pony named Macaroni who roamed freely around the White House gardens.

---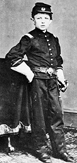 Thomas (Tad) Lincoln was the youngest son of President Abraham Lincoln. Known for his antics around the White House Tad once discovered how to make all of the White House bells ring at the same time -- much to the surprise of the entire staff and residents of the building!

---
President and First Lady | Vice President and Mrs. Gore
Record of Progress | The Briefing Room
Gateway to Government | Contacting the White House
White House for Kids | White House History
White House Tours | Help | Text Only