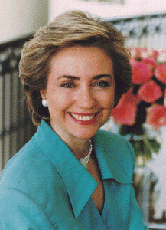 ---
The American people have made the role of the First Lady one of the most important jobs in the country. It happened because each First Lady from Martha Washington onward contributed to her husband's historical reputation. It is a tribute to American women that, coming from different social and economic backgrounds, from many different geographical regions, and with diverse education preparation, each First Lady served our country so well. Each left her own mark, and each tells us something special about our history.
The White House Historical Association has published The First Ladies to give us an opportunity to know these fascinating women better. The biographies were written by Margaret B. Klaphthor, Curator Emeritus of the Smithsonian Institution. Mrs. Klapthor has spent 50 years studying our First Ladies, and her findings put each woman into perspective. She highlights their individual achievements as well as their qualities that make them similar. As we learn about them, we begin to see that these women usually reflect the time in which they lived, so much so that a look at their lives becomes a panorama of women's history in America. Managing the social life at the White House and the personal welfare of the President and their families, the First Ladies set a standard for the women of their day. In addition, they brought their own interests to the same wide audience.
From the relative obscurity of the earliest First Ladies, a few shine like stars. We see Abigail Adams passionate love for John Adams, in her patriotism, and in her political and social beliefs. Dolley Madison dazzles Washington with her social skills and also proves to be an especially astute politician who aids her husband's presidential activities. Sarah Polk also assists her husband's political career. Acting as the President's private secretary, she enjoys more politics than entertaining.
The period beginning with the Civil War brought First Ladies who saw in their role an opportunity for service to the less fortunate. Mary Todd Lincoln spent hours visiting with wounded Civil War soliders. Lucy Webb Hayes deeply touched the nation with her compassion for the poor and less privileged. Edith Roosevelt sewed for the needy.
With the 20th century, the role of the First Lady included women with professional careers. Ellen Wilson was an accomplished artist; Grace Coolidge taught the deaf; and Lou Henry Hoover was a geologist. Others, such as Eleanor Roosevelt, used their positions to speak out for peace, justice, equality for women and "the needs of the common people".
I take courage from reading The First Ladies, and I hope that, like me, all of you who read these brief profiles will be motivated to learn more about this interesting group of Americans.