May 5 - 12, 1997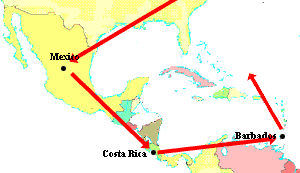 History has given the people of the Americas adazzling opportunity tobuild a community of nations committed to the values of liberty and thepromise of prosperity.
-- President William Clinton
Summit of the Americas, December 9, 1994


On May 5, President Clinton departed on an historic seven-day trip toMexico,Costa Rica and Barbados. During the trip, President Clinton will meetwith Central American and Caribbean leaders to continue efforts at building and creating partnerships for the 21st Century with our closest neighbors. The trip is the first of three that will be made by President Clinton to Central America this year. Visit this site during the weekfor regular trip updates, including briefings, remarks and eventinformation.
---
President and First Lady | Vice President and Mrs. Gore
Record of Progress | The Briefing Room
Gateway to Government | Contacting the White House
White House for Kids | White House History
White House Tours | Help | Text Only