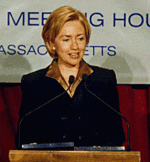 "...there's a growing excitement about the idea that we will be living in a rare, historical moment -- the conclusion of a century and the birth of a millennium. No matter where we are in the country, the celebrations of the millennium will reflect the creativity, diversity and raw energy of Americans."
First Lady Hillary Rodham Clinton
Dear Friend:
The convergence of a new century and the next Millennium is a milestone in human history. The President and Mrs. Clinton created the White House Millennium Council to encourage all Americans to participate in meaningful activities to mark the new millennium.
The theme of the White House millennium activities is "Honor the Past -- Imagine the Future." The President has invited all citizens to "give a gift to the future" that will strengthen our democracy, encourage citizen involvement and unleash the full creative potential of the American people as we chart our common future.
The role of the White House Millennium Council is to cooperate with federal, state and local governments and encourage a wide variety of projects and events that celebrate our historical and cultural legacy and stimulate fresh thinking about the challenges and opportunities of the 21st century.
The White House Millennium Council is for the entire nation. To ensure that this is truly a national, grassroots effort, the President and the First Lady are inviting all Americans -- especially children -- to participate, and to make their own gifts to the future. As Americans engage the millennium activities most meaningful to them the Council will work with elected officials at all levels and draw upon the creativity, ideas and leadership present in communities throughout the United States.
Thank you and best of luck in the future.
Sincerely,
Ellen McCulloch-Lovell
Deputy Assistant to the President and
Advisor to the First Lady on the Millennium
---
President and First Lady | Vice President and Mrs. Gore
Record of Progress | The Briefing Room
Gateway to Government | Contacting the White House
White House for Kids | White House History
White House Tours | Help | Text Only