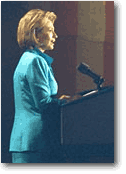 "When the millennium finally arrives, none of us will find ourselves suddenly transformed. We won't be trading our earthly jeans and t-shirts for space attire, and we hope that the only bolts of light in the sky will be the fireworks that we've been planning. Still, the coming of this new century and millennium presents us with a wonderful opportunity to reflect on the past, on where we've been, on who we are, and what we hope to become."
First Lady Hillary Rodham Clinton
Welcome to the Millennium Council Youth Web Page! We hope you will visit this page again soon to learn more about the White House Millennium Council. Please utilize the links below to see what else is happening for youth on the internet.
Treetures Celebrate Millennium Green
---
President and First Lady | Vice President and Mrs. Gore
Record of Progress | The Briefing Room
Gateway to Government | Contacting the White House
White House for Kids | White House History
White House Tours | Help | Text Only