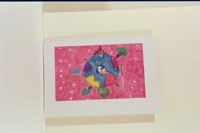 Young Audiences National Medal of Arts, 1994
A piece of children's artwork
Richard Bell, National Executive Director, wrote: "While I can think of many great works of art of the 20th Century that would convey a sense of who we are as individuals and as a nation, if I had one item to suggest for inclusion, it would be a simple drawing or song created by a child. I believe this would convey our commitment to future generations while at the same time honoring the cultural legacy that sustains all Americans today. I enclose one such piece, produced by a 3rd grader in New York, which was created in response to a semester long residency conducted by a visual artist. I think its simplicity conveys the timeless qualities of the creative act. What more appropriate value could we share as we turn the corner of the millennium?"