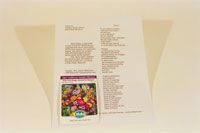 Wisconsin Gibraltar Middle School, Fish Creek
"Mollie Pfiefer, a sixth grade student at Gibraltar Middle School, suggested that we put some seeds into the time capsule. Her classmates agreed, and quickly the students brainstormed images that they felt the seeds would represent. This group poem combines the words, images, and wishes of the sixth graders from our school in Fish Creek, Wisconsin."
Seeds
To our children's children,
1000 years from today,
We send you
A few small seeds.
We are America
At the turning of the millennium.
We are hopes, prayers,
Small seeds
In this one tiny moment
On a boundless map of eternity.

America,
Our time-young country,
We pass to you seeds
Gathered during our struggle
For independence,
Protected with valor
In years of war.
Our strength is our diversity.
We are a hybrid blooming,
Many different races,
Different cultures
Live here,
Flourish here.

A seed is mysterious,
Surrounded by
A fabric of suspense.
We will never know
What may grow?
Over the next 1000 years.
Maybe we will take root
In other galaxies!
America ,we give you
The seeds of the future.
Grow stronger
Seed of Democracy!
Seed of Freedom!
Seed of Equality!
Seed of Liberty!
Seed of Justice for All!
Seed of Peace.