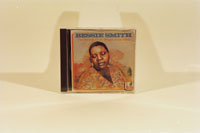 Wilson, August, National Humanities Medal, 1999
Bessie Smith's recording of "Nobody in Town Can Bake a Sweet Jellyroll Like Mine"
Mr. Wilson's assistant wrote: "Mr. Wilson has said when, as a twenty year-old in 1965, he first put this 78 rpm record on his phonograph it was the time when his 'universe stuttered and everything fell to a new place...I cannot describe or even relate what I felt...it was a birth, a baptism, a resurrection, and a redemption all rolled up in one. It was the beginning of my consciousness that I was a representative of a culture and the carrier of some very valuable antecedents...I had been given a world that contained my image...The ideas of self-determination, self-respect, and self-defense...are still very much a part of my life as I sit down and write. I have stood [these ideas] up in the world of Bessie Smith on the ground captured by the Blues. Having started my beginning consciousness there, it is no surprise that I would mature and my efforts would come to fruition on that same ground."