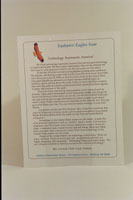 Michigan Eastlawn Elementary School, Midland
"Technology Represents America!
"We think technology represents America the best because technology is used everywhere. We have space exploration, sites on the Internet are fun to go to, and computers control our life and make our life easier.

"In the last 100 years we have accomplished sending space probes to the planets, and having a man walk on the moon. We now know more than ever about our moon. In 1998 we sent the lunar rover to the planet Mars. Our space shuttle has allowed us to have humans work in space so satellites can be placed above the earth. Today we have satellites in space that orbit the earth and send us information that carries television signals, weather and pictures of the earth.

"There are many interesting encyclopedias on the Internet such as Encarta. If you want information on the mars polar lander you can go on line to find as much information as you can. Or visit the Hubbell telescope site and you can get enough information to write a whole report about what it does. People connections are available on the Internet, too. You can go to chat boxes and chat. You can send an instant message to your best friend.

"Computers control our lives because they control the machines that send off electricity to homes, stores, power plants and plenty more places. Water filtration plants clean the water we use. They are controlled by computers.

"Technology in the United States makes our life easier. It does this with electrical appliances such as, washers, dryers, stoves, microwaves, telephones and televisions. Each of these appliances contain computer chips. Computers make it easier to buy and sell things. Most cars today have computer chips implanted in them. That's how technology in the United States makes our life easier.

"People of the United States use technology everywhere. There are many different kinds of technology such as appliances, phones, tvs, radios, telescopes and computers. Technology helps us in many ways. We can't imagine what life in America would be like without technology!"