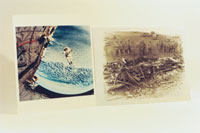 Lederberg, Joshua,, National Medal of Science, 1989
Photographs of a variety of momentous images (view of earth from space and liberation of Buchenwald)
"Photos of the US troops liberating prisoners in Buchenwald. Perhaps inevitably also the mushroom cloud over Hiroshima--a reality we can't forget. And photos of whole earth from space."