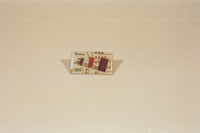 Dennard, Robert H., National Medal of Technology, 1988
The "DRAM Evolution," a card with 3 generations of DRAM
"I believe my own invention, the one-transistor Dynamic Random Access Memory (commonly known as DRAM, or simply RAM), deserves to be included.

"I conceived of one-transistor DRAM in 1966, at a time when computer RAM consisted of cumbersome and costly wired arrays of magnetic components which were far too large and heavy for mass use. (Copies of the original pages from my laboratory notebook, dated 12/6/66, documenting my discovery, are enclosed.) My invention was patented in 1968 (copy of US Patent #3,387, 286, entitled, "Field-Effect Transistor Memory," is enclosed). DRAM first appeared in commercial products in the early 1970s and soon became the standard memory device in almost all computers. With computers now common in 10s of millions of homes and offices, DRAM is one of the most pervasive man-made objects on the planet. I also include samples of three generations of DRAM integrated circuits (chips), which have been attractively packaged together in plastic and mounted on a magnet. The 4 Mb (million bits) chip became available in 1989, the 16 MB in 1991, and the 64 Mb in 1994. And the relentless drive towards miniaturization continues, with a 256 Mb chip having become available in 1998, with a 1 Gb (billion bits) chip on the horizon."