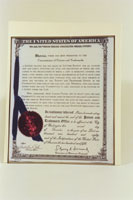 Cohen, Stanley, National Medal of Science, 1988
Genetics
"While there have of course been many important discoveries made during the 20th century in various areas of science, perhaps the most momentous of these advances have been in the area of genetics. Humans now have acquired the capability to use genetics to prevent and cure afflictions that previously were not treatable and to address issues such as pollution of our planet and the need for environmentally-friendly methods of producing food and energy. There is now the ability to understand through the study of genes the way that living cells function in health and disease, and perhaps most importantly—the potential of humans to affect their own evolution as well as the evolution of other living creatures. The ability of mankind to determine its future is a heavy responsibility that raises societal and ethical issues as well as scientific ones.

"The ability to do all of these things stems from the discovery in 1973 that genes can be manipulated, transplanted between living cells, and cloned and propagated in cells that are not their natural host. It was for this discovery that Dr. Herbert W. Boyer and I have received both the National Medal of Science and the national Medal of Technology. I suggest that it may be appropriate to include some item or idea related to this discovery in the time capsule described in your letter."