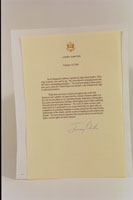 Carter, President Jimmy, Presidential Medal of Freedom, 1999
Statement on human rights
"In my Inaugural Address, I quoted my high school teacher, Miss Julia Coleman, who used to say, 'We must adjust to changing times and still hold to unchanging principles.' The most prevailing of these principles, upon which the United States was founded, is the fundamental right to individual freedom. While there are many concerns throughout the world that Rosalynn and I address, we agree that the concept of human rights is at the core of everything we do, including disease eradication, food production, peace and democracy building, and bringing hope to those suffering from physical and mental illnesses. The work to which we have dedicated our lives is predicated on our simple belief that we share with our compatriots an enduring obligation ensure and protect the basic human entitlements of life, liberty, and the pursuit of happiness both at home and abroad. We must always remember that America did not invent human rights...human rights invented America."